Working behind the camera - 1
"Toques Off ... Stetsons On"
A movie by John Henley, Lindsay Jameson and Ian Jameson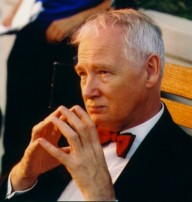 John Henley
My background, for the most part, has been as a magician, with forays into community theatre and the movie industry. Brought up on classic British comedy programmes, my patter and scripts tend to reflect that with a dry sense of humour. Ever since I got my first 8mm cine camera I have loved the creative side of the movie industry, particularly editing ... now that it can be accomplished digitally and not with a splicer and film cement!


Lindsay Jameson
Lindsay trained as an actress in the U.K. receiving Bronze, Silver and Gold (hons.) medals from the prestigious L.A.M.D.A. academy. Before meeting Ian and changing her career path to become a singer, Lindsay toured the repertory theatres of the U.K. and became writer-in-residence of a Theatre in Education company. Lindsay has also performed as part of a comedy duo and worked as a freelance writer and journalist in print, radio and television.

Ian Jameson
Ian made his first professional appearance at age 14 in the Palace Theatre, Manchester production of "Babes in the Wood". Before joining the successful comedy group "Brownsville Banned" he sang his own compositions on the U.K. folk circuit. Ian has toured the globe with his wife, Lindsay, as part of "Cachet Duo" and comedy troupe "Little Devils". More recently, Ian has written award-winning soundscapes for the Vancouver theatre scene.
SYNOPSIS:
The requirements of the competition restricted the subject to the need for more Canadian content in movies made in Canada, and less reliance on the work that comes to "Hollywood North" from the production companies in the U.S.A.
The second requirement was that the movie should not be any longer than 90 seconds.
Lindsay, Ian and John - 3 ex-patriate Brits decided to look at what is a serious problem with a decidedly tongue-in-cheek approach.
The short film was screened at the ACTRA members conference in February 2006 where it was very well received.... and who said Canadians don't have a sense of humour?
If you don't have Macromedia Flash on your computer, you can download a free copy of Flash Player here.