I Am .....what? A movie actor
As this web site relates more to my involvement in the movie industry than anything else ( I am sure Casting Directors aren't really interested in my early life dabbling in films) I shall jump ahead a few decades and I hope that people interested in participating in movies will find the information useful.
The actor's union in Canada is ACTRA (The Alliance of Canadian Cinema, Television and Radio Artists) and, in the movie business, you need to aquire 6 credits in order to become a full member. If you obtain one credit, you can opt to become an Apprentice Member.
A credit can be earned in various ways:
An actor role in a union movie
An S.O.C. (Silent on Camera) role in a union commercial
An actor role in a student movie - but this cannot be your first credit, so this is open to Apprentices only
Taking the ACTRA weekend workshop - again you have to be an Apprentice to get a credit from that
Doing Voice-over or "looping" for a union movie or TV episode
Once I became an ACTRA Apprentice, I auditioned for a role in a student movie and had a lot of fun, so over the years have continued to work with film students at various institutions like Humber College, Ryerson University, Niagara College, York University, Sheridan College and Seneca College - all of whom have a Student Movie Agreement in place with ACTRA that allows the students to use professional actors in their projects.
I will also, in time, be posting articles and information about the business, what you need to do and the scams to avoid, which I hope will assist those who aspire to get into the industry.
So where does my prior life as a magician fit into all this? Magic was my hobby since I was about 9 years old and I always knew that when I grew up I would be a magician. Performing and running a business that manufactured and sold magic props and jokes filled my life until I was thinking of retirement, and it was then that I decided to venture into an industry that had always appealed to me - ever since I stepped through the doors of Warner Bros all those years ago!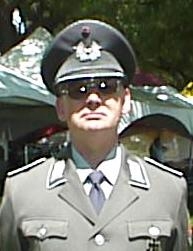 I had reached a point where I was asking myself whether I would have regrets about not having followed a dream. The solution was to take the plunge and let the chips fall where they may. A friend set me up with an agent and then I was on my way and have loved every minute of it!
When we were kids we would dress up as different characters. Here is a picture of me the first time I ever went on a movie shoot. This was "Women of Camelot" June 27th 2000.
We were shooting at the Sunnyside Park on Lakeshore in Toronto, and there was a restaurant nearby overlooking Lake Ontario. The day was hot so I would stroll up and down just to catch some breeze from the lake. On one trip this gentleman came up to me and addressed me in German. He saw my uniform and it must have reminded him of 'home'.
Having learned German at school I was able to hold a conversation and I quickly realised that this gentleman thought I was really a German soldier! I decided it would be best to break the news to him that I was part of a movie shoot and was, in fact, from England. Shows just how authentic the wardrobe was.
More to come